Published: 19 June 2013
A total of 29,400 university degrees were attained in 2012

According to Statistics Finland, a total of 29,400 university degrees were attained in Finland in 2012. The number of lower university degrees was 13,100 and that of higher university degrees 13,800. Completed degrees at the doctorate level numbered 1,660. Sixty per cent of those that completed lower or higher university degrees and 52 per cent of those that completed doctorate degrees were women. The share of foreigners among all completed degrees was five per cent, but the share was as high as 16 per cent among doctorate degrees.
Completed university degrees 2001–2012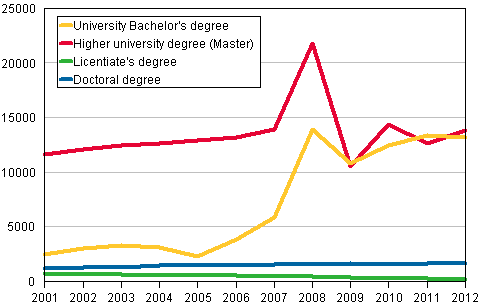 The figure shows clearly how the revision of the degree system completed in 2005 affected the number of degrees. According to the current degree system, as a rule all students complete a lower university degree before a higher university degree. Students also have the option to complete only a lower university degree. Students having studied according to the old degree system sought to complete their degree by 31 July 2008 and those who studied veterinary medicine, dentistry, medicine or technology by 31 July 2010, when the transition periods to the new degree system ended.
When the new degree system entered into force, the study right was also limited to seven years, which may have affected the increased number of higher university degrees. In 2012, nearly 1,200 more higher university degrees were completed than in 2011.
Completed university degrees by fields of education (Educational Administration's classification 1995) in 2012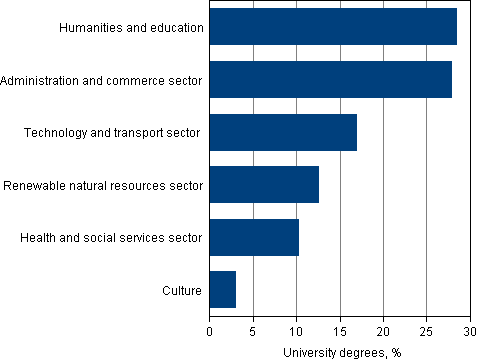 In 2012, most degrees were completed in the female-dominated fields of humanities and education, 29 per cent. Nearly the same number of degrees was completed in administration and commerce, 28 per cent, and the third most degrees were completed in the field of technology and transport, 17 per cent. Most doctorate degrees were completed in health and welfare, 23 per cent.
In 2012, the median time for completing a higher university degree was 6.5 years. Examined by programme, the graduation times were shortest for Master of Arts (Dance), four years. Architects had the longest graduation times at eight years. The medians were calculated from gross study times, so the study times also include months of absence. In addition, studying may have been part-time. The study times were calculated at an accuracy of one month.
Examined by university, most degrees were completed at the University of Helsinki, 5,800. The second most degrees were completed at the University of Turku, 3,300 and the third most at Aalto University, 3,100. More detailed information on degrees attained at universities, for instance, by field of education and university, can be found in the appendix tables .
Source: Education. Statistics Finland
Inquiries: Anna Loukkola 09 1734 3678, koulutustilastot@stat.fi
Director in charge: Riitta Harala
Publication in pdf-format (244.4 kB)
Tables in databases

Appendix tables
---
Updated 19.6.2013
Official Statistics of Finland (OSF): University education [e-publication].
ISSN=2324-0148. University students 2012. Helsinki: Statistics Finland [referred: 22.4.2021].
Access method: http://www.stat.fi/til/yop/2012/02/yop_2012_02_2013-06-19_tie_001_en.html