Published: 18 March 2014
Prevalence of innovation activity in enterprises nearly unchanged
According to Statistics Finland's preliminary data, enterprises reported innovation activity in 2010 to 2012 almost as frequently as in the years preceding the period. Around 45 per cent of the surveyed enterprises had undertaken activities related to product and process innovations, while in the previous surveys between 2006 and 2008 and 2008 and 2010, the corresponding shares were 47 and 46 per cent.
Enterprises with innovation activity 2006 to 2012, share of enterprises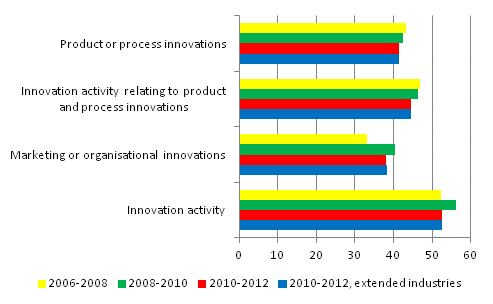 In manufacturing, innovation activity related to products and processes, as well as launching product innovations on the market, was from 2010 to 2012 most widespread in the manufacture of computer, electronic and optical products. In services, innovation activity similarly as product innovations were most commonly reported in the industry of telecommunications.
Nearly 40 per cent of enterprises had introduced innovations related to organisations and marketing between 2010 and 2012 in both manufacturing and service industries.
For the first time, the survey inquired about public procurement contracts and innovation activities related to the implementation of procurement contracts.
Nearly every third, 31 per cent of the surveyed enterprises reported having had procurement contracts in 2010 to 2012 to provide products to public sector organisations. In all, 30 per cent of enterprises had procurement contracts with domestic public sector organisations and five per cent with foreign public sector organisations. Procurement contracts are more widespread among large enterprises than small ones.
However, only in a few cases, innovation activity was linked to the implementation of procurement contracts. A couple of per cent of all enterprises (eight per cent of enterprises with procurement contracts) undertook innovation activity as part of a procurement contract with innovations being required in the contract. Five per cent of enterprises (16 per cent of those with contracts) reported innovation activity related to the implementation of procurement contracts, although innovation was not required as part of the contract.
The survey covered enterprises employing at least ten persons in manufacturing (incl. mining and quarrying, electricity, gas and air conditioning supply, and water supply and waste management) and in certain services. Compilation of statistics on service industries was extended in this survey to cover four new industries (59 Motion picture, video and television programme production, sound recording and music publishing activities, 60 Programming and broadcasting activities, 72 Scientific research and development, and 73 Advertising and market research).
The survey results will be published in their entirety in June.
Source: Innovation 2012, Statistics Finland
Inquiries: Mervi Niemi 09 1734 3263, tiede.teknologia@stat.fi
Director in charge: Hannele Orjala
Publication in pdf-format (280.8 kB)
Tables in databases

Pick the data you need into tables, view the data as graphs, or download the data for your use.

Appendix tables
---
Updated 18.3.2014
Official Statistics of Finland (OSF): Innovation [e-publication].
ISSN=1797-4399. 2012. Helsinki: Statistics Finland [referred: 28.5.2023].
Access method: http://www.stat.fi/til/inn/2012/inn_2012_2014-03-18_tie_001_en.html