Published: 19 December 2014
Cubic volume of granted building permits decreased in October
Correction. The release has been corrected on 7 January 2015. The corrections are indicated in red.
According to the preliminary data of Statistics Finland's statistics on building and dwelling production, building permits were granted in October 2014 for a total of 1.9 million cubic metres, which is 30 per cent less than one year ago.
Granted permits, million m3, moving annual total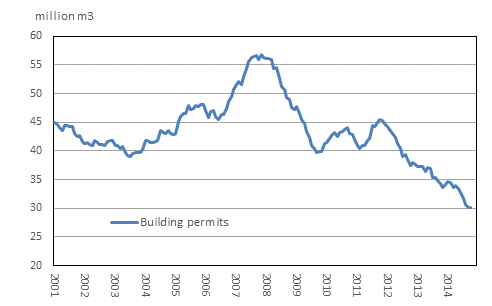 The cubic volume covered by building permits granted for residential buildings went down by 29 per cent in October year-on-year. Building starts were also very low. Starts of construction directed at residential buildings decreased in October 2014 by 28 per cent from October 2013.
Volume of newbuilding
In October 2014, the constant-price value or the volume of ongoing building production decreased by 19 per cent year-on-year. At the same time, the volume of residential building construction decreased by 17.4 per cent.
The time series of the volume index of newbuilding will be revised later in spring 2015. The data of the volume index of newbuilding published now is not fully comparable with the previous publication, as the quality of the source data has improved significantly. The data of the volume index of newbuilding have been updated with new data for 2014.
Volume index for newbuilding 2005=100, trend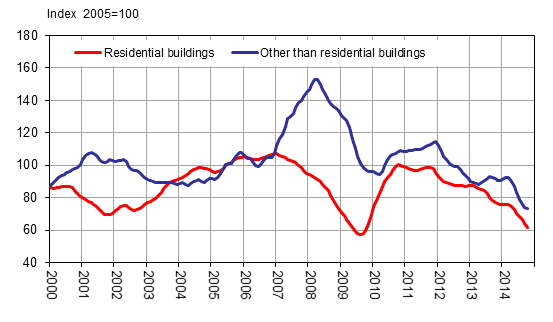 Permanent building identifier adopted - Better overall picture of the building stock
The Population Register Centre has introduced a permanent building identifier in the entire Population Information System and its implementation has changed the contents of the statistics on building and dwelling production. Earlier, the examination of data focused on individual building permits, but thanks to the new data, the viewpoint will be a building, building permits directed to it, and their construction stages.
The data have been updated starting from 1995 and the time series have been aggregated from the renewed data . In connection with this, the data have become revised and corrections have been made to it. The data that are now in use may still be deficient to some extent, and the data may become supplemented over the coming months.
Source: Building and dwelling production, Statistics Finland
Inquiries: Mira Kuussaari 029 551 3538, Merja Järvinen 029 551 2458, Heli Suonio 029 551 2481, rakennus.suhdanne@stat.fi
Director in charge: Hannele Orjala
Publication in pdf-format (279.7 kB)
Tables in databases

Pick the data you need into tables, view the data as graphs, or download the data for your use.

Appendix tables
---
Updated 19.12.2014
Official Statistics of Finland (OSF): Building and dwelling production [e-publication].
ISSN=1798-9590. October 2014. Helsinki: Statistics Finland [referred: 21.9.2023].
Access method: http://www.stat.fi/til/ras/2014/10/ras_2014_10_2014-12-19_tie_001_en.html