Micro data
Micro data or unit-level data are available from Statistics Finland for scientific studies and statistical surveys.
The Research Services offer ready-made data and tailoring of data according to research need. Data are available from both enterprise and individual databases in a variety of ways. The data, their tailoring and remote access are subject to charge.
Statistical legislation and data protection and confidentiality practices specified in legislation are applied in compiling and releasing the data. The releasing of data is subject to a user licence. View the rules of the Research Services (PDF).
Topical in Research Services
Delay in entry to processing of applications
(Updated 15.8.2022)
Addition of users: around 1 week
Ready-made data: around 2 months
Tailored data: around 4 months
Cause of death / data with identification data: around 4 weeks
The time from processing the application to receiving the data varies depending on the extent of the data.
Application process for data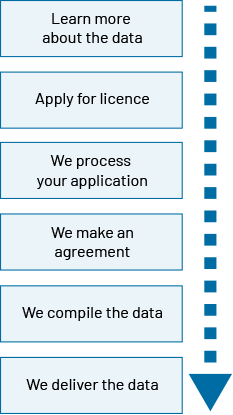 Newsletter of Research Services
The newsletter informs about current news from Research Services at Statistics Finland.
Contact us
In all questions concerning research data, you can contact us by email: tutkijapalvelut@stat.fi.
If you want to contact us by telephone, send us by email a call request and tell us in the message what it concerns. This way we can find a suitable expert to see to the matter.