Published: 12 April 2018
Innovation activity more widespread than before among enterprises in 2014 to 2016
Enterprises reported innovation activity more frequently than before in 2014 to 2016. Altogether, 65 per cent of the surveyed enterprises had had innovation activity, while in earlier surveys, the corresponding share has been some 10 percentage points lower. These data derive from Statistics Finland's survey that examined the generality and characteristics of enterprises' innovation activity. The survey is part of the EU survey made every two years.
Prevalence of innovation activity in manufacturing and services in 2006 to 2016, share of enterprises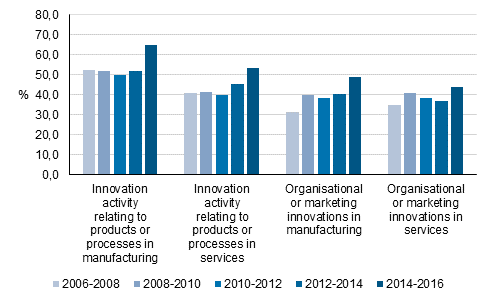 In the most recent survey, innovation was reported on the whole more often than before, in both enterprises of different size categories and different innovation types, for example.
Forty-three per cent of the surveyed enterprises introduced new or significantly improved products to the market and in all, 58 per cent of the enterprises reported innovation activity related to products and processes, the share having risen by some 10 percentage points from the previous survey. The share of enterprises having reported organisational and marketing innovations also rose significantly from the previous survey, by good seven percentage points, and was now 46 per cent of all enterprises.
The expenditure of innovation activity remained in 2016 on level with previous surveys, at around EUR six billion. However, there was a change in the structure of expenditure from before, because as R&D expenditure decreased, growth in innovation investments and inputs in introducing products to the market increased clearly the share of other, non-R&D expenditure. EUR 4.3 billion of innovation expenditure were spent in manufacturing enterprises and EUR 1.7 billion in service activities.
In the survey, lack of skilled personnel emerged as the factor most commonly hampering innovation activity. Absence of own funding and high costs of innovation activity, as well as market factors, that is, hard competition and uncertain demand for innovations, are still challenges for innovations. Legislation can have a stimulating, disturbing or neutral effect on innovation activity. For example, for seven per cent of innovators, environmental legislation appeared as stimulating innovation activity, 11 per cent assessed data protection legislation to cause uncertainty in innovation activity, and similarly, 11 per cent felt product safety and consumer production legislation causes additional burden on developing new.
In addition to innovation cooperation, the survey studied the cooperation of enterprises and universities and its results more widely. Around one-fifth of enterprises reported cooperation with universities in 2014 to 2016. The share of those having reported cooperation was bigger in manufacturing than in services and in most industries, it was mostly cooperation related specifically to innovation activity. Of the results of the mentioned university cooperation, enterprises thought most important were strengthening of knowledge base and competence, overviews of future development trends and markets, introduction of new technologies, methods or devices, and development of new and improved products.
Source: Innovation 2016, Statistics Finland
Inquiries: Mervi Niemi 029 551 3263, Heidi Pirkola 029 551 3246, tiede.teknologia@stat.fi
Director in charge: Sami Saarikivi
Publication in pdf-format (974.7 kB)
Tables in databases

Pick the data you need into tables, view the data as graphs, or download the data for your use.

Appendix tables
---
Updated 12.4.2018
Official Statistics of Finland (OSF): Innovation [e-publication].
ISSN=1797-4399. 2016. Helsinki: Statistics Finland [referred: 1.4.2023].
Access method: http://www.stat.fi/til/inn/2016/inn_2016_2018-04-12_tie_001_en.html