Published: 12 December 2008
Innovations play a variety of roles in the development of entrepreneurial activity
Revised edition: Data on innovations' proportions of turnover have been corrected on 12 December 2008. The corrections are indicated in red.
During the period 2004–2006 enterprises engaged in activity connected with product or process innovations more often than previously. When compared with the previous survey on the years 2002–2004, the number of enterprises with process innovations grew both in manufacturing and in the examined service industries. Additionally, a greater share than previously of the enterprises in the service industries reported product innovations. According to enterprises' reports, the product innovations introduced to the market in 2004–2006 represented a total of 16 per cent of their total turnover in 2006.
In addition to new or improved products and processes, enterprises also innovated in the fields of marketing and organisation. Unlike for product and process innovations, the adoption of organisational innovations in 2004–2006 was more common in services than in manufacturing. Similarly to product and process innovations, the adoption of marketing and organisational innovations became more common with increasing size of enterprise and was more common in group enterprises than in independent enterprises. A large part of the enterprises with innovations reported having made various different types of innovations during the period under examination. Often the different types of innovations in an enterprise were connected to one another.
The data derive from Statistics Finland survey on innovation activity among enterprises in 2004–2006. Key results from this survey were published already in February 2008.
Enterprises introducing innovations in 2004-2006, share of enterprises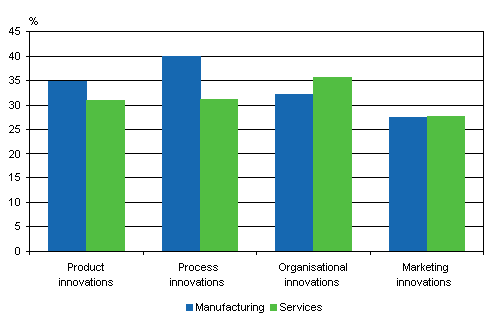 Source: Innovation 2006, Statistics Finland
Inquiries: Mervi Niemi (09) 1734 3263, tiede.teknologia@stat.fi
Director in charge: Leena Storgårds
Publication in pdf-format (576.7 kB)
Tables in databases

Pick the data you need into tables, view the data as graphs, or download the data for your use.

Appendix tables
---
Updated 12.12.2008
Official Statistics of Finland (OSF): Innovation [e-publication].
ISSN=1797-4399. 2006. Helsinki: Statistics Finland [referred: 28.5.2023].
Access method: http://www.stat.fi/til/inn/2006/inn_2006_2008-12-12_tie_003_en.html