Published: 7 June 2012
Innovation involves the whole value chain, customers and users included in development
Forty-six per cent of enterprises had innovation activity related to products and processes in 2008-2010. Innovations are developed throughout the value chain, but the most frequent reporters of innovation activity were system suppliers. Altogether 15 per cent of the total turnover of enterprises in 2010 came from product innovations launched on the market during 2008-2010. These data derive from a survey of Statistics Finland concerning innovation activity among enterprises.
Prevalence of adoption of innovations in production value chain by main position 2008–2010, share of enterprises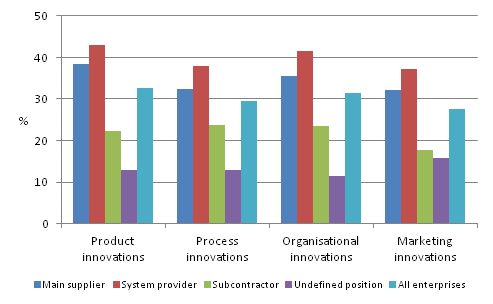 Between 2008 and 2010, the general characteristics of innovation activity related to products and services remained quite unchanged from the 2006-2008 period. One-third of enterprises launched product innovations on the market. Sixty per cent of these enterprises brought out products that were new to their market. One enterprise in six that had made product innovations reckoned that they had brought on the market an innovation with characteristics that were the world's first. Innovation expenditure reported by enterprises totalled EUR 7.3 billion in 2010.
The innovation survey now also studied for the first time innovation activity in human health and social work activities. The share of enterprises having made product or process innovations was 44 per cent, i.e. almost the same as the average for other industries. Enterprises in human health and social work activities reported their total expenditure on innovation activity as EUR 80 million in 2010. They reported more often than other enterprises activities like outsourcing of expertise, and training related to innovation activity. Nearly one-half of the enterprises had adopted marketing and organisational innovations and 57 per cent had engaged in broadly defined innovation activity.
The vast majority of all enterprises having engaged in innovation activity reported that they had incorporated user information, users or users' product ideas into their innovation activity and production of innovative products. The exploitation of information from customer feedback systems, market surveys or studies of user needs, for instance, and joint development with users become more common as the enterprise size grows. By contrast, the integration of products modified or developed by users into production is nearly equally widespread irrespective of enterprise size.
The survey covered enterprises employing at least ten persons in manufacturing (incl. mining and quarrying, electricity, gas and air conditioning supply, and water supply and waste management) and in certain services.
Source: Innovation 2010, Statistics Finland
Inquiries: Mervi Niemi 09 1734 3263, tiede.teknologia@stat.fi
Director in charge: Leena Storgårds
Publication in pdf-format (735.3 kB)
Tables in databases

Pick the data you need into tables, view the data as graphs, or download the data for your use.

Appendix tables
---
Updated 7.6.2012
Official Statistics of Finland (OSF): Innovation [e-publication].
ISSN=1797-4399. 2010. Helsinki: Statistics Finland [referred: 28.5.2023].
Access method: http://www.stat.fi/til/inn/2010/inn_2010_2012-06-07_tie_001_en.html