Published: 10 June 2010
Innovation activity still more common in manufacturing than in service enterprises
Nearly one half of enterprises employing at least ten persons practised innovation activity related to product and process innovations in 2006–2008. The majority of these also introduced product or process innovations. During the time period in question, innovation activities were most often directed to research and development and purchases of machines and equipment. Enterprises reported innovation expenditure to the tune of around EUR seven billion in 2008. The data derive from a survey of Statistics Finland concerning innovation activity among enterprises.
Prevalence of innovation activities in manufacturing and services, 2006–2008, share of enterprises with innovation activity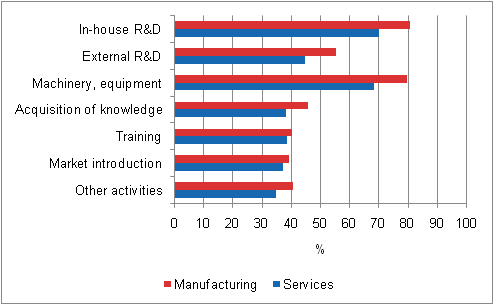 Fifty-seven per cent of the enterprises having launched product innovations on the market in 2006 to 2008 introduced products new to their market. Three out of four of those with innovations brought to the market products new to their enterprise. In 2008 around 16 per cent of the enterprises' combined turnover was accumulated from innovations launched on the market in 2006 to 2008.
Innovation activity related to product and process innovations was still more common in manufacturing than services and large enterprises engaged in innovation activity more often than small ones did. The key objectives in innovation activity were improvement of the quality of products, enlargement of the product selection and growing of the market share, but such as increasing the flexibility of processes and cost-effectiveness were equally important targets. Enterprises felt the most important information sources for work related to the development of product and process innovations were customers, and equipment and material suppliers and for group enterprises other enterprises in their group.
Of the enterprises with innovation activity 37 per cent had been involved in co-operation related to innovations with other enterprises and institutes. The main co-operating partners for the development of innovations were, similarly as for the most important information sources, customers, and equipment and material suppliers and for group enterprises their own group. Co-operation is also extensive with international partners; for example, nearly one third of those having co-operated reported partners in the United States and almost one fifth had partners in China.
One third of all enterprises said that they had had marketing or organisational innovations. Enterprises thought the main objectives of organisational innovations were acceleration of responding to co-operation partners' needs, while with innovations connected to marketing the aim is to strengthen the market share and reach new customers.
Nearly two thirds of the enterprises having adopted product, process, marketing or organisational innovations in 2006 to 2008 claimed that their innovations had produced environmental benefits. In manufacturing the share was 73 per cent of those with innovations, and in services 53 per cent. The most general environmental benefits related to production of products were more effective use of materials and energy, and recycling of waste, water or materials used in production. Intensification of energy use was mentioned most commonly of the environmental benefits related to the end use of products. Enterprises thought the most important reasons for introducing environmental innovations were the demand for environmental innovations and voluntary agreements and instructions related to environment-friendly activity.
The survey covered enterprises employing at least ten persons in manufacturing (incl. mining and quarrying, electricity, gas and air-conditioning supply, and water supply and waste management) and in certain service industries.
Source: Innovation 2008, Statistics Finland
Inquiries: Mervi Niemi (09) 1734 3263, tiede.teknologia@stat.fi
Director in charge: Leena Storgårds
Publication in pdf-format (814.1 kB)
Tables in databases

Pick the data you need into tables, view the data as graphs, or download the data for your use.

Appendix tables
---
Updated 10.6.2010
Official Statistics of Finland (OSF): Innovation [e-publication].
ISSN=1797-4399. 2008. Helsinki: Statistics Finland [referred: 28.5.2023].
Access method: http://www.stat.fi/til/inn/2008/inn_2008_2010-06-10_tie_001_en.html